Ozone (O3)
Ozone (O3) is created through a photochemical reaction between atmospheric oxygen, hydrocarbons and/or carbon monoxide, oxides of nitrogen, and sunlight. At high concentrations at ground level in the lower atmosphere, O3 is an air pollutant that can harm the respiratory systems of people and animals and damage plant tissue. The primary sources of the precursor gases in the Tahoe Basin include on-road motor vehicles, residential fuel combustion, motorized watercraft, off-road equipment, solvent, and fuel evaporation, and off-road recreational vehicles. Ozone can also be transported into the Tahoe Basin from outside sources. Regional programs such as reducing automobile use through transit and bike paths and cleaner-burning wood stoves aim to reduce ozone levels.
Indicators
THRESHOLD CATEGORY

REPORTING CATEGORY

INDICATOR
THRESHOLD CATEGORY

REPORTING CATEGORY

INDICATOR
Evaluation Icon Legend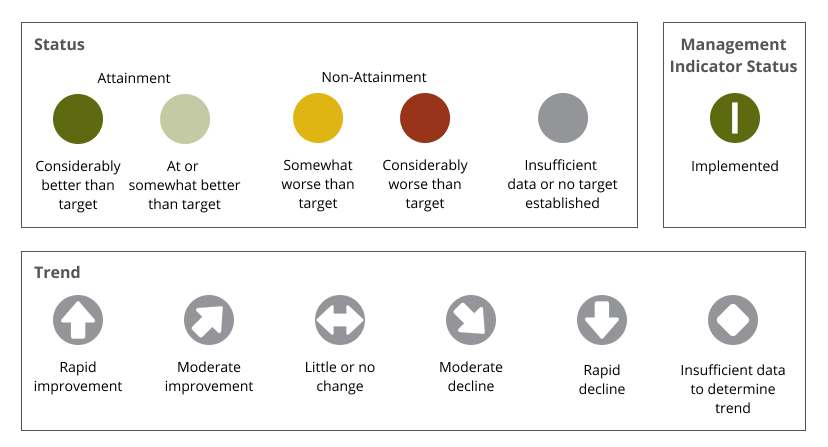 Note: Thresholds reported as "Implemented" refer to thresholds that were adopted as policy guidance in the development of the Regional Plan. In these cases, the subject policies, ordinances, or environmental protections have been incorporated into the TRPA Regional Plan and TRPA Code of Ordinances.