Aquatic Invasive Species
Aquatic Invasives Species (AIS) are non-native organisms that threaten the abundance and diversity of native organisms in Lake Tahoe. The presence of these species continues to threaten native species in the lake and the presence of aquatic weeds increases nutrients in the system which may impact nearshore clarity. Non-native species have been both intentionally and unintentionally introduced to Lake Tahoe over the last 150 years. Habitat modification such as channelization and modification of the Upper Truckee Marsh for development of the Tahoe Keys also created micro-environments within the lake that may be more suitable for colonization by AIS. Climate change also threatens to alter the lake's physical environment, with the potential for making further AIS establishment more likely. Various regional programs are aimed at AIS prevention, monitoring and rapid response, and control.
Indicators
THRESHOLD CATEGORY

REPORTING CATEGORY

INDICATOR
THRESHOLD CATEGORY

REPORTING CATEGORY

INDICATOR
Evaluation Icon Legend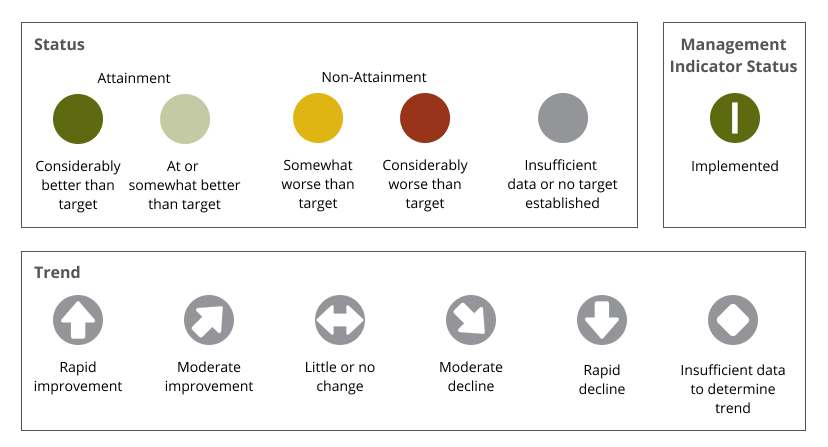 Note: Thresholds reported as "Implemented" refer to thresholds that were adopted as policy guidance in the development of the Regional Plan. In these cases, the subject policies, ordinances, or environmental protections have been incorporated into the TRPA Regional Plan and TRPA Code of Ordinances.